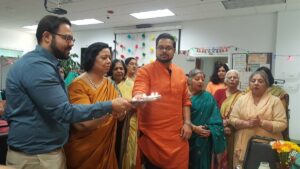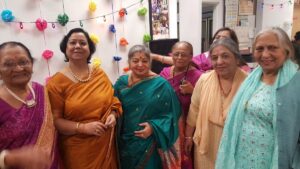 We celebrate Diwali every year with all the seniors and staff! As always, this year MAFS & UMAS celebrated Diwali and Lakshmi puja at our Chicago location on October 25, 2019.
Diwali (also called Divali or Deepawali) is a "festival of lights" when the whole city of Ayodhya (birthplace of Lord Rama) was decorated to welcome Lord Rama's homecoming after 14 years of exile and after killing the demon "RAVANA". It was a triumph of good over evil, and the blessings of victory, freedom, and enlightenment. The name comes from Sanskrit Deepawali, meaning "row of lights." On the night of Diwali, celebrants lit dozens of candles and clay lamps (called diyas), placing them throughout their homes and in the streets to light up the dark night. Fireworks are also set off on the night of Diwali—said by some to ward off the evil spirits.
To celebrate this auspicious festival, the Chicago location was beautifully decorated by ADS Coordinator Ms. Pankaj Patel and the team. Every location manager and key personnel participated in the event dressed grandly in their traditional ethnic clothes. Pandit Shri Jagdishbhai Joshi conducted the puja performed by Executive Director Ms. Santosh Kumar, Director of IT Prashant Kumar, and CFO Sagar Kumar along with staff and seniors. The center echoed with chants of devotional prayers and everyone prayed with reverence The Puja was followed by a healthy and tasty lunch prepared by the Kitchen staff of the Chicago location. Sweets and Diyas were distributed to managers and all who attended. The staff and seniors from the other locations left to celebrate at their respective locations.