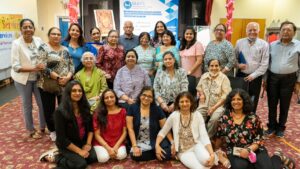 MAFS celebrated Appreciation Day for Tutors who play a major role in our Adult Literacy Program. It was held in the Naperville location on June 30th, 2021, from 1:30 pm – 2:30 pm. It was an in-person event while maintaining social distancing. The tutors were celebrated by giving certificates and awards. A special cake was cut and enjoyed by all. Dr. Kumar in her speech, mentioned "A person without knowledge is like being blind. It is very important to have a good education and good English-speaking skills to survive in this country without being a burden to society! She continued to say that we believe that Education and Knowledge help you better understand yourself and the world around you. It improves the community to get good jobs, better understanding, and confidence in a new country by breaking language barriers. To facilitate this cause, we offer our community educational and technical programs through our Adult Literacy Program which includes, English as a Second Language (ESL), Bright Ideas, CPR training, and Computer training."
The tutors were, from the Schaumburg location we have Hasmukh Modi, Sudha Gandhi, Ram Gupta, Gunvantbhai Soni, and Maheshwari Soni. They tutored more than 10 students. From our Niles locations, tutors were Hemlata Patel, Padma Desai, Sumitra Grover, Avinash Majmudar, Indu Naik, Leena Shah, Dipesh Mody, Advani, Kusum, Soni, Bharatkumar, Pandya, Divyesh, who tutored more than 20 students. From our Naperville location, the tutors are Purohit Kumud, Kalra Moti Manju, Balwant Bhardwaj, Nagori Shobhna, Malhotra Tripta, Vakharia Kirit, Pilgulwar Venkat, Triguna Dave, Dixit Pratibha, Gitaben Vyas who tutored more than 20 students.
KUDOS TO OUR SENIOR PARTICIPANT TUTORS AND
All celebrated by cutting a cake and rejoicing with their peers and ready for the next Adult Literacy level! This event was well coordinated by Ms. Roshita Pandey, MAFS Grants Manager, Ms. Neelam Desai – Naperville Manager, and staff!